10th March, 2010 - Posted by Drboo - 1 Comment
Moving onto solids – a decision made more difficult through parents having to wade through the controversy, myth, conflicting information, and out of date advice.
In America, weaning usually means stopping breast milk or formula – in the UK it means starting solid food, which is how I am using the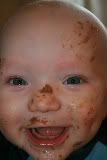 term throughout this article.
X and I recently went to a talk from our children's nurse on weaning. Among other things we were told that weaning may help your baby sleep through the night – specifically that not sleeping through the night may be indicative of the need to be weaned.
One parent of a 17 week old baby asked whether, as her baby was looking around when drinking her expressed breast milk, could she be unsatisfied by the milk and need weaning? She was very reluctant to wean so early, but worried about her baby. The nurse commented that, yes, weaning could be worth a try. From my experience and reading, the baby is more likely to have become more alert and interested in her surroundings. The message seemed to be that it would be OK to wean at 17 weeks.
The government guidelines used to suggest we wean at 3 months, then 4. Now the guideline is exclusive breast feeding for the first 6 months. Whether breast or formula feeding, the guidance is that babies should not be weaned onto solids until they are 6 months old. If weaning earlier, babies should not be given solids until at least 20 weeks.
Why is this? As parents we were probably weaned earlier than this and we survived! So what is the fuss about?
Historical background to weaning
Evidence suggests that in Egypt, 2300 to 4700 years ago, they were starting solids at around 6 months of age, as were the Romans 1550 to 1750 years ago3.
By the early 1900s through to around the 1920s, paediatricians were advising no solid foods until 12 months of age, supplemented by cod liver oil and orange juice (to prevent scurvy). That said, this was obviously not the case everywhere – especially in lower socio-economic households where some babies were found to have been fully weaned by 6 weeks, putting them at significant risk. This varied throughout the country, however, with towns in the North recording higher rates of exclusive breastfeeding for the first year. In the Midlands exclusive breastfeeding was normally for a shorter duration, in other towns babies were often weaned as young as two months5. In 1913-1914, 85% of babies were exclusively breastfed at birth, but only 68.5% by the end of the second month. In 1918-1919, 38.4% were still exclusively breastfed by 6 months5. However, it is difficult to know how many of these babies were weaned onto "solid food" and how many onto the "infant formulas" available since the late 1860s. It is likely that they were primarily weaned onto "pap" and similar soft foods, as infant formula was often prohibitively expensive until around the 1920s-1930s when evaporated milk became widely used as an inexpensive base.
Over the next 30 years the age at which solids were given became earlier, as there were concerns that babies were missing essential iron and vitamins when given breast milk alone. Flash forward to the 1950s and 1960s and it was not uncommon for babies to start solids as young as 3-6 weeks of age, and it was generally viewed as a milestone achievement. An MD in Miami in 1953 wrote a paper boasting about his success with feeding babies solids from 2 days old, and a 3 meal a day plan at 3 months (his schedule was backed in the paper by other medics)10:
In the 1970s a study in the UK found that the commonest age of starting solid food (usually in the form of rusk or cereal added to the bottle) for babies in the UK was between 3 and 4 weeks, with the youngest being 2 days7. Another study in the early 1970s found that 80-95% of babies were weaned onto solids by 3 months. In 1974 the Department of Health and Social Security (DHSS) in the UK advocated the delay of solid foods until after 4 months of age. By the late 1970s, however, a study found that bottle-fed babies were being weaned at an average age of 8.3 weeks (13.8 weeks for breastfed babies)8.
In the 1980s the European and American paediatric committees recommended solids be introduced after 3 months, but ideally not before 4 months9. However, a UK study in 1980 found that 56% of infants were given solids before 3 months of age. The research was repeated in 1985 and the number had increased to 62%9.
Before 1994 the National Health Service (NHS) recommended the minimum age for starting solids was 3 months, in 1994 they altered this to 4 months. By 1995 the World Health Organisation had settled on between 4 and 6 months, but no later than 6 months. In 2003 they had changed this recommendation to "exclusive breastfeeding for 6 months", a recommendation then echoed by the NHS. The American Association of Paediatrics also recommends starting solids "somewhere during the second half of the first year" – often assumed to mean at 6 months6.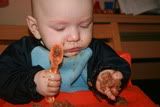 However, a study in UK in 2004 found that, of 707 babies, the mean age of weaning was 3.5 months, with 21% starting solids before 3 months. Only 6% of parents waited until after 4 months of age13. Reasons for weaning early were that the parents felt that their baby was hungry or because they felt it was the "right time". However, 39% of those who weaned before 3 months did so following advice from a healthcare professional, as did 40% of those who weaned between 3 and 4 months.
When to give solids
Many mothers start weaning before the current recommendation of six months. Is this a problem? Are there any risks or any benefits from starting solids early? Or late? Or on time?!
The study in 2004, mentioned earlier, found that babies weaned before 3 months were significantly more likely to suffer from diarrhoea – twice as likely as those weaned later – and were more likely to see their GP over the weaning period13. Weaning too early stresses the baby's system, which still has an immature gut, kidneys and immune system which may not be ready to cope with food13. Whereas waiting until 6 months to wean has been found to lead to fewer cases of gastrointestinal problems as by then the baby's digestive system (which until about 4-6 months is "open" meaning that large proteins and disease-causing pathogens can pass through, making the baby susceptible to allergies) is more mature and ready for food. Fat and protein digestion is incomplete until at least 6 months. Weaning before 4 months has also been found to lead to higher body fat and body mass index, and respiratory problems in early childhood.
However, weaning "too late" is thought to risk problems with nutrition and feeding problems later in life13. That said, other studies have found that it is possible to exclusively breastfeed for about 9 months without leading to problems with iron levels or weight gain1. There does still seem to be a fallacy floating around that at 6 months breast milk suddenly becomes nutritionally inadequate for your offspring, a out of date idea that has since been disproved1.
To add to the confusion, other studies have found that complying with the current recommendations doesn't necessarily help protect infants. One large study found that a delayed introduction of solids (past 4 or 6 months) was not associated with decreased odds for asthma, allergic rhinitis, or sensitization against food or inhalant allergens at 6 years of age. On the contrary, food sensitization was more frequent in children who were introduced to solids later. However, waiting to wean may protect against eczema14.
The European and the North American Societies for Pediatric Gastroenterology, Hepatology and Nutrition have concluded that there is no convincing scientific evidence that avoidance or delayed introduction of foods which could cause allergies (like fish and eggs) actually reduces the chances of those allergies (for both at risk and not at risk children). They suggest that you should start solids no sooner than 4 months but no later than 6 months15. However, they also say that breast milk does not provide enough iron for babies after 6 months, which has been hotly disputed.
Confused yet?
The "signs of readiness" don't help. The HIPP (baby food) website suggests signs include "putting toys and objects in their mouth". Oh, OK. X was ready about 4 months ago then…
Cow and Gate are equally helpful with their "signs of readiness": "Where they've previously slept through the night, they now wake up for a feed" (this often happens around 4-6 months anyway, as they move through the next developmental stage – there is no proof that weaning your baby will help him or her sleep through the night) and the equally insightful: "Your baby looks fascinated when you eat" – yes, he does and has done since he could focus on us. He is also fascinated when we drink wine – should we pass him a glass?
Weaning has been thought of as the solution to many "problems" including slowing of weight gain, losing weight, poor sleep, having a big baby, having a small baby, baby having a "hungry cry"….20. While each baby is different and each parent should trust their instincts, it is important to know that starting solid food has not been found to alleviate these issues. Not surprising when you consider that the first few months (at least) of solid food introduction is about fun and exploration, not adding calories into the diet. The baby will still get a majority of his/her calories from milk – breast or formula – until they are about 1 year old.
The latest signs the NHS suggest could mean that your baby is ready to be weaned include when they can:
Stay in a sitting position and are able to hold their head steady
Co-ordinate their eyes, hands and mouth, can look at food, grab it, and put it in their mouths all by themselves
Swallow their food. Babies who are not ready will often push their food back out, so get more around their faces than they do in their mouths.
In 2008 Gill Rapley (deputy director of Unicef's Baby Friendly Initiative and a health visitor for 25 years) suggested "Baby Led Weaning" as an approach to give baby's solid foods – where the baby self-feeds finger foods rather than being fed purees. She advocated starting the process at 6 months, but also notes:
"Some babies are always going to be ready before others and some later – they don't all crawl or walk at the same age….When we put a newborn baby on the floor to kick we are giving him the opportunity to walk – the only thing holding him back is his own developmental ability. What I suggest we should do is simply apply the same principle to self-feeding….. The baby doesn't 'know' his gut has sealed any more than he knows his legs are strong enough to support him when he gets up to walk it just seems to be that nature has ensured that all the various systems (gut, oral skills, immunity and manipulation) develop in parallel. So if a baby can't pick up a piece of food and get it to his mouth it's a fair bet his gut is still too immature to receive it."11
Of course, this assumes that a baby's motor control matches their internal development, which some disagree with16
What start with?
In the late 1870s, the following advice was given:
"What food, when a babe is 6 or 7 months old, is the best substitute for a mother's milk? … The one I have found the most generally useful, is made as follows – Boil the crumb of bread for two hours in water, taking particular care it does not burn, then only add a little lump sugar to make it palatable. When he is six or seven months old, mix in a little new milk – the milk of ONE cow"9
Mmm. Yummy.
During the 18th and 19th century, there was a belief that fresh fruit and vegetables were not tolerated by children and they were best weaned onto bland and starchy food. Most thought sugar was nourishing and often added salt to babies' food9.
With the promotion of feeding solids earlier and earlier, the food became a substitute rather than a supplement for breast or formula milk. This coincided with the acceptance of the importance of vitamins in the diet as well as the mass production baby food, which became more affordable for more people, meeting the need for quick solutions for those living the faster-paced lifestyle of the industrialised age19. Manufactured baby foods have been criticised due to the additives often used in them. Sugar and salt are often also added, despite these ingredients being best avoided by babies. It seems reasonable to suggest that, just as adults should not eat pre-prepared packaged foods regularly, nor should our babies.
Purees (which are often homemade) made good sense when we were giving food to our babies at 3 months or less. However, some feel that if we wait until 6 months, babies can handle finger food straight away, and missing out the puree stage helps babies handle different textured foods better, eventually be less fussy about food, and minimise gastrointestinal problems12. Advocates of purees argue that some babies need the interim puree stage to help them get the hang of foods that they will eventually chew gradually18. Parents also worry about their baby choking if they go down the baby led weaning route. However, it seems that babies using this approach are more likely to gag than choke, and possibly not much more than babies fed purees (especially when lumps start to be introduced).
Conclusions
Perhaps the answer with this, as in most of these parenting decisions is that "one size fits all" is an unhelpful approach. Treating babies as individuals is only sensible – they all walk and talk and so forth at different ages, it makes sense to start solids at different ages too. That said, the evidence certainly suggests that before 4 months is too young. Baby-led weaning is an approach that allows the baby to dictate when they are ready, which is a nice idea…. follow our successes and failures with this approach on Twitter:

By: Twitter Buttons
Further Reading
http://mainstreamparenting.wordpress.com/2008/09/29/is-there-an-advantage-to-delaying-solids/
www.kellymom.com/nutrition/solids/solids-how.html
http://brilliantbirth.blogspot.com/2007/06/delaying-solids.html">http://brilliantbirth.blogspot.com/2007/06/delaying-solids.html
References
Børresen, H.C. 1995. Rethinking Current Recommendations to Introduce Solid Food between Four and Six Months to Exclusively Breastfeeding Infants. Journal of Human Lactation 11:3 201-204
Cunha et al. 2004. Enamel hypoplasias and physiological stress in the Sima de los Huesos Middle Pleistocene hominins Am J Phys Anthropol. 125:3. 220-31
Dupra, T.L., Schwarcz, H.P., & Fairgrieve, S.I 2004. Infant feeding and weaning practices in Roman Egypt. American Journal of Physical Anthropology. 115:3 204-212
Eden, A. 2006 Postpartum Nutrition Guidelines. 18 September 2006. HowStuffWorks.com. <http://health.howstuffworks.com/postpartum-nutrition-guidelines-ga.htm> 27 February 2010.
Fildes, V. 1998. Infant feeding practices and mortality in England 1900-1919. Continuity and Change 13:2 251-280
Palmer, L. F. 2008. Beyond Breastmilk. http://thebabybond.com/Beyond%20Breastmilk.pdf retrieved 28.02.2009
Oates, R.K. 1973 Infant Feeding Practices. British Medical Journal. 2: 762-764
Wilkinson, P.W. & Davies, D.P. 1978 When and why are babies weaned? British Medical Journal 1: 1682-1683
Forsyth et al. 1993. Relation between early introduction of solid food to infants and their weight and illnesses during the first two years of life. British Medical Journal. 306:1572-1576
Sackette, W.M. 1953. Results of three years experiences with a new concept of baby feeding. Southern Medical Journal 46:4 358-363
Rapley, G. 2007. Baby Led Weaning Webchat with Gill Rapley. 17th November 2007. http://www.iwantmymum.com/site/articles/baby-led-weaning-webchat-with-gill-rapley/56 retrieved 07.03.2010
Rapley, G & Murkett, T. 2008. Baby-led Weaning. Vermillion: UK
Wright, C.M., Parkinson, K.N., Drewett, R.F. 2003. Why are babies weaned early? Data from a prospective population cohort study. Arch Dis Child 89:813-816
Zutavern, A. Et al. 2008. Timing of Solid Food Introduction in Relation to Eczema, Asthma, Allergic Rhinitis, and Food and Inhalant Sensitization at the Age of 6 Years: Results From the Prospective Birth Cohort Study LISA. Pediatrics 121:1 44-52
Agostoni et al. 2008. Complementary feeding: A commentary by the ESPGHAN Committee on Nutrition. Journal of Pediatric Gastroenterology and Nutrition. 46: 99-110
Esther. 2008. http://mainstreamparenting.wordpress.com/2008/09/29/is-there-an-advantage-to-delaying-solids/ Retrieved 09.03.2010
Goodwin, D. 2007. Bringing Up Baby. Hodder & Stroughton: UK.
Bentley, Amy. "Baby Food."

Encyclopedia of Food and Culture

. 2003. Retrieved March 10, 2010 from Encyclopedia.com:http://www.encyclopedia.com/doc/1G2-3403400056.html
Anderson, A.S. et al. 2001 Rattling the plate -Reasons and rationales for early weaning. Health Education Research Theory and Practice. 16:4 471-479